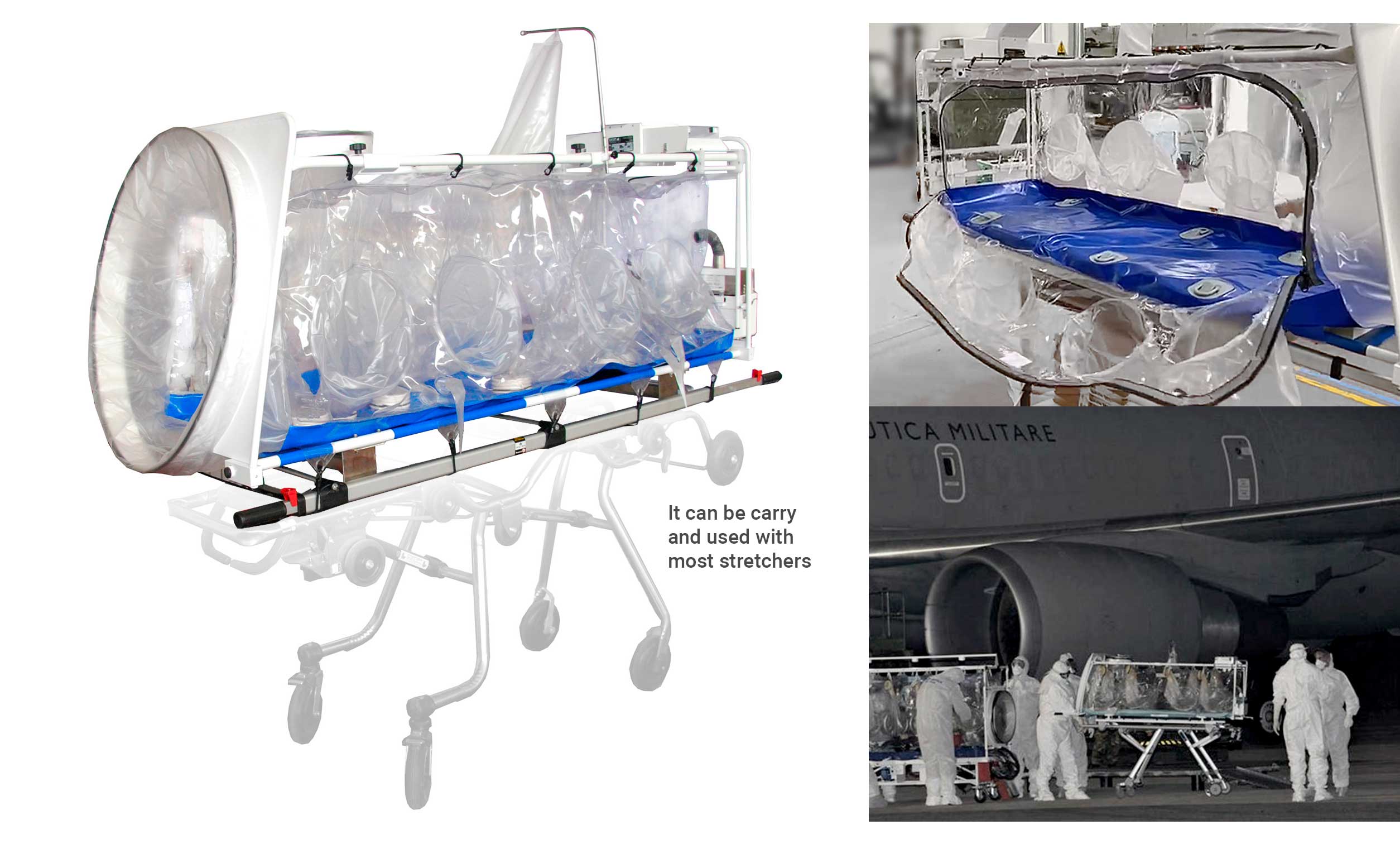 Increase the health safety of medical staff reducing the risk of infection.
The isolation stretcher STISOL system is a negative pressure operated MEDICAL DEVICE ready-to-use, developed and fully manufactured in Italy.
This system has been designed for the isolation of that patients afflicted by highly infectious or contagious diseases, and realized to offer maximum microbiological safety, hands-free usage by operators and ease of use.
The isolation structure of STISOL is built on a carrier stretcher with telescopic rods to allow the system transfer among stretchers safely, and it can be carry and used with most stretchers.
---
---
Certifications
2006/42/CE
2014/30/UE
EN 60204-1
Class U15 EN1822 (for HEPA filters)
---
Negative pressure system
Dual and separate battery power supply to guarantee 12 hours of negative pressure maintenance for long-distance transfers
High-efficiency HEPA filters, produced in Italy, allow a long-term use and their replacement is quick and easy.
---
Features
8 gloved accesses allow a safe management of the patient.
8 conical accesses for the passage of pipes and cables (4 on each side)
Housing for infusion bag and IV rod as standard
high-thickness Medical PVC casing
Large living space for the patient
Telescopic handles for moving the system with 2 or 4 operators.
Large door for the transfer of objects to the patient, closed by special caps.
Steel structure on 4 sides to hook monitoring devices
---
TOTAL lateral opening with welded and waterproof zipper
---

---
APPLICATIONS

High biocontainment protected transport throughout hospital wards.

High biocontainment protected transport from one hospital to the others.

High biocontainment protected transport from one hospital to another, by air.
---
---
Discover our complete biocontainment management for the safety of patients and operators